YouTube responded to TubePress with an HTTP 410 - No longer available


On 11th February 1994 I took my seat in the brute cavernous concert hall of the Institut du Monde Arabe in Paris.  The air was charged with that unmistakably thrilling atmosphere that precedes a night that is more of an 'event' than just another 'gig'.  As a fan of rai music I knew that all the modern Chebs and Chebbas owed their art, their hedonistic worldview and their freedom of expression to a woman who was old enough to be their mother.  In fact she WAS their mother, spiritually and metaphorically speaking.  She was nothing less than la mamie du rai, a legend who was miraculously still alive and still performing with all the provocative panache that had made her famous back in Algeria fifty years before.   I remember a rapturous welcome from the largely North African audience, a welcome that was laced with deranged passion and epic expectations.  The line-up was 100% traditional; gasba flutes, guellal drums, voice and bendir.  "She looks ancient," I thought, "but hard as nails, and unphaseable."  The music started up like a desert wind, the gasbas swirling round the beton-brut pillars of the hall, the drums pounding against the walls.   The old lady unleashed a primal hundred-horse-power holler, deep and guttural, proud and unadorned.  Her eyebrows shimmied, her shoulders fluttered suggestively in time with the beat.  The crowd went wild with emotion.  I saw tears in the eyes of grown men.  I heard middle age women dressed in Parisian chic ululating like Maghrebi banshees.  I saw all and sundry on their feet, dancing, swaying, smiling ecstatically.  There was something going on, a connection, a realisation, a rediscovery, a homecoming that I could not understand or take part in.  I just looked on, uncomprehending and in awe.
It was only recently that I learned the real significance of that night back in 1994.  It ended a thirty-year period of official ostracism and neglect.  It was the first time that Cheikha Rimitti had been programmed in a proper concert hall, and one that was part of one the most respected cultural centres of the Arabic Diaspora to boot.  Since Algerian independence in 1962 Cheikha Rimitti had been given the cold shoulder by the cultural leaders of the newly independent state and had been forced to earn her living by playing weddings, baptisms and henna feasts on both sides of the Mediterranean.  After enduring three decades of Arabisation, corruption, deception, disappointment, moralising, cultural chastity and linguistic repression, Algeria welcomed la diva du rai back onto an official concert stage (the same welcome still hasn't been extended by state radio and TV).  She lost no time in reminding her fellow country men and women who they really were, what they had been missing  and how to smile again.
Rimitti sang, as she has always done, in the plain spicy slang of Oranie, the huge province that spreads south, east and west from the port city of Oran in Western Algeria.  She didn't mince her language or play too many high-minded metaphorical games.  She sang just how the poor rural population of her homeland speak, and to the gathered ex-pat crowd that was a refreshing epiphany of epic proportions.  Rimitti had returned, and she was telling it like it was.   The effect was Bessie Smith, Edith Piaf, Barbara Windsor, Eva Peron and Oum Khalthoum all rolled into one.
With your permission, I'm just going to indulge in a little plain-speaking myself.  My recent interview with Cheikha Rimitti was a nightmare.  We met in late January amidst the luxuriant Arabian nights décor of a Moorish bar restaurant in Paris' third arrondissement.  Cheikha Rimitti arrived with her manager and producer Nourredine Gafaiti, an old rai svengali who has managed an impressive stable of A-list Algerian stars in his time including the late lamented Cheb Hasni and the husband and wife duo Sahraoui and Fadela.  I've always had a lot of respect and a lot of time for Mr Gafaiti.  He's one of the rare native Algerian showbiz operators who has had the courage to explore and master the 'western' way of doing business, and the benefits have been obvious.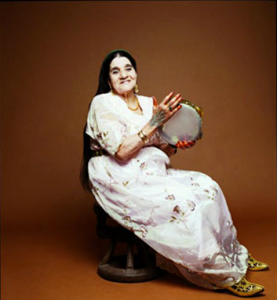 Cheikha Rimitti has long harboured a deep mistrust of journalists.  You can't blame her.  Her kingdom is the spoken word, and the written opinions of hacks belong to a sphere beyond her ken, her interest and her control.  Before I had even asked my first question, I was made aware of the ground-rules in no uncertain terms.  Rimitti doesn't want to talk about her private life.  Rimitti will not discuss her age or her past.  Rimitti only wants to talk about the music.  Recently, I was told, a French journalist wrote an inaccurate and unkind account of the alleged debaucheries of Rimitti's past life.   She invented stuff.  We trust you won't do the same.   Have you got a card?  Thanks, now we know how to get hold of you if you write anything cheeky or false.   Ok, now we can start.
The frustration and nervousness inspired by this onslaught of rules and restrictions was diluted by excitement and a gut feeling that this was a one-in-a-million opportunity that should under no circumstances be screwed up.  After all I was sitting inches away from one of my all-time heroines, a living breathing and impatiently waiting piece of history.  "OK, so let's talk about the new album then…Haja Rimitti, what were you trying to…"  "It's just Cheikha Rimitti to you, no Haja if you please!" came the booming riposte.  Legend 1, trembling English hack 0.  Everyone had been addressing Cheikha as 'Haja' since the moment she arrived, but it seemed that the title conferred on Rimitti following her pilgrimage to Mecca in 1976 was off limits to all but close friends and family.
OK, so CHEIKHA Rimitti, what were you trying to do with the new album?  She has an amazing way of talking, which is close to her singing style.  Her phrases come out like canon balls, rolling, loud and bass heavy, with little delicate grandmotherly croak trails at the end of each sentence.  Nourredine Gafaiti translated, assuring me that his rendition was unspun and word-for-word.   "In some way I wanted to resuscitate my life's journey and my repertoire with this album but nonetheless I'm annoyed by all the artists who use my songs without declaring them.  I've always been short of money and I've been deprived of my rightful income so I hope that all of this will be put right sometime soon…"
BANG, ten seconds into the interview, we've already collided head on with Rimitti's obsession numero uno: the great pop-rai Rimitti rip off.   Basically, it goes like this.  Rimitti has written over two hundred songs in her time, without pen or paper, just straight from her buzzing brain and into the microphone. Some of these songs, like 'El Hmam', 'La Camel' and 'Mani Mani' were snapped up by the younger generation of pop-rai chebs, covered on various releases and then registered with the French Society Of Composers, Authors and Arrangers (SACEM) as if they had written them themselves.   In other words Rimitti was deprived of her rightful ownership of and income from the songs.  It's a legitimate gripe, which has been exacerbated by the fact that none of the younger generation, like Khaled, Mami, Zahouania, Fadela, Sahraoui and Tahar have ever acknowledged the debt they owe to Rimitti.  It's that ingratitude that Rimitti still finds deeply hurtful. In fact, she's obsessed with it.  The subject crops up again and again during our interview, like an unswattable insect buzzing furiously and intermittently in the ear.   Basically, as far as Rimitti is concerned, the only thing any journalist she meets is really good for is to help her broadcast this grave injustice, this heinous crime of base ingratitude.
Which is a pity, because deep down under that time-etched visage is a unique and deeply fascinating life-story.  But it remains resolutely stashed away in the vaults of Rimitti's memory.  I do get a few tantalizing glimpses; a wayward recollection of performing with M'hamed Benzerga, le James Dean du rai, at a restaurant in Oran in 1959 on the night he was killed in a motorbike accident; a strange story about how a lawyer and music entrepreneur called Belhadj once acted as go-between for the famous traditional Oranais singer Cheikh Hamada whilst he was courting a French woman.  These titbits are thrown at me like choice morsels of roast meat to a hungry dog.
Rimitti also likes lists and takes pleasures in intoning them like a Buddhist boom box.   The famous names of yesteryear who she worked with: Hachlef, El Anka, Skandrani, Abdelwhahb, Mohammed El Badi, Abdoulahi Belkhayat, Fadila Djziriya, Miriam Fekkai, Cheikha Tetma, Mahboubati, Benzerga.  The places where she has performed and triumphed: Italy, Casablanca, Belgium, Canada, Japan, Tunisia, Angoulême, London, Bordeaux, Marseille, Spain, Cartagena, Zaragoza, Bilbao, Portugal, Berlin, Cologne.  The labels she has recorded for: Pathé Marconi, Maison d'Armor, Dounia, Philipps, La Voix de Son Maitre.   The old traditional singers who influenced her: Hamada, Madani, El Khaldi, Hadda, Blaoui Houari, Ahmed Wahby, Benzerga, Ahmed Saber.  The new singers who have ripped her off: Khaled, Mami, Fadela, Sahraoui.  For those with only a passing interest in North African and Arabic music, these lists will be more or less meaningless.  But for those few obsessional Maghrebi music train-spotters out there, these lists are stories in themselves, and mighty impressive ones too.
But when I try to delve deeper into the past, all I get is curtains.  "Why are you asking questions about Cheikh El Khaldi, Hamada, Madani?" Gafaiti translates.  "Because I'm fascinated by that period," I answer.  "In that case you journalists should write the story of that period and give it some more consideration."  "But that's exactly what I'm trying to do."  "I don't want to talk about others, I want to talk about myself.  What interests me are my rights, my songs and my works.  Ethnomusicology is not my predilection."
Nor is it mine.  It seems that the real full-bodied Rimitti story might go with her to the grave.  In the meantime, hapless writers and idolizers like myself will have to be content with approaching her as if she were a historical figure, piecing together her story and her significance from the jumble of re-cycled references which can be found in the articles written about her by North African journalists with privileged access and knowledge of her language, especially Bouziane Daoudi of Liberation and Rabah Mezzouane, the musical director of the Institut du Monde Arabe.
Cheikha Rimitti was born in the mountainous region of Tessala, between the garrison town of Sidi-bel-Abbès and the prim wine-growing burg of Ain Temouchent, in western Algeria, on May 8th 1923.  Algeria was still a part of France, trains still ran on coal and 78rpm shellac was still the only format in town.  She was given the name 'Saâdia', which means the happy or the fortunate one.  Her fate did not fulfil the promise of her name, and when she was still young, both her parents died.
The events of Rimitti's early life remain locked away in her memory, but one can only surmise that it was a testing and tough existence, battered by extremes of hunger, poverty and loneliness.  The young Saâdia no doubt learned what she needed to know to survive, and events forged a character of street-wise steel.  We can speculate what music she must have heard at that age; a mix of the rural Berber folk of her forebears, which had remained largely unchanged for centuries, like the lifestyle it serenaded, and popular poetry known as melhoun, which had been adapted by 'urbanised' troubadours who adopted the instruments of rural poor, the rosewood desert flute or gasba and small goblet drum or guellal, and wore the turbans and burnous of the peasantry, to create what became known as folklore Oranais or gharbi, which means music 'from the west'.  By the 1920s there were already many recordings available by these venerated cheikhs, a title which is equivalent to something like 'sir' or 'the honourable…'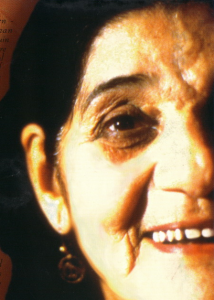 Men like Cheikh Hamada, Cheikh Madani, Cheikh El Khaldi, Cheikh Benyakhlef and Cheikh Elarbi Ben Sari, were a powerful early influence on Rimitti.  But she also had an ear for another tradition, a more risqué, more libertine and less time-honoured one than that of the chioukh (plural of 'cheikh').  This style shared the rural sounds of gharbi, but its lyrical content belonged to the same family tree as the zendani, or tavern songs which were paeans to the pleasures and pain of alcohol, carnal love, feasts and all-night revelry, very popular amongst those at the bottom rung of society's ladder.  These tantalising themes were taken up by the new sirens of the age, women singers who had ventured beyond the pale of respectable society, wilfully or by force of some misfortune such as the birth of an illegitimate child, a violent husband, a forbidden love affair or just grinding poverty. Even though a career in music and entertainment was considered to be base, unworthy and depraved, at least it afforded these 'fallen' women some chance of earning a living and being mistress of their own destinies.  It could also bring considerable fame, and some of the favours that accompany it.
By the time Rimitti entered her teenage years, several of these popular divas, or cheikhas, as they were referred to, in ironic contrast to their ultra-respectable male equivalent, had become very popular.  Among them were Cheikha Kheira Guendil, Cheikha Zohra Bent Ouda, Cheikha Zohra Relizania and Cheikha El Ouachma El Tmouchentia. These proud independent women must have offered the young Saâdia a powerful role model.  But her own road to independence was long and hard.  At some point during her teens, Rimitti joined an itinerant troupe of Hamadcha musicians, who lived out their devotion to the Moroccan Sufi saint Sidi Ali Ben Hamdouch by touring the countryside and performing healing rituals animated by music during which 'patients' would go into a trance and communicate with spirits or djnoun.  The troupe no doubt afforded Rimitti a powerful musical education and a kind of ersatz family unit.  The young singer lived a hand-to-mouth existence, sleeping rough in public baths, religious shrines or out in the fields under the stars.  Rimitti learned to survive, to sing and to dance.
And it was as a dancer that Rimitti first began to be noticed.  Her grace and daring were incredibly seductive.  She was famed for dancing with a whole tray of glasses full to the brim balanced on her head, her belly a-blur, without spilling a drop.  News of her derring-do antics at fantazias, or traditional demonstrations of horse riding and gunmanship, also began to spread throughout the region.  She was known for mounting horses with rifles in each hand and giving the gnarled old veterans a run for their money, or for diving under galloping hooves.  Meanwhile she continued to perform with other women, in groups called meddahates, who would sing the medh or verses in praise of The Prophet for women only audiences at weddings, baptisms, feast and henna parties.  She would also entertain male-only audiences with other cheikhas, liberating souls from the straightjacket of respectability, sowing dreams of love, alcohol and oblivion until dawn doused everyone with its sobriety.  It was an exhausting existence, but it kept her alive and gave her dignity, however perverse in the eyes of society at large.
At the age of 20, Rimitti settled in the agricultural centre of Relizane, sweltering in the middle of the hellishly hot plains of Oranie.  It was a town that was famed for its vineyards, its watermelon groves, its olive trees and its cheikhas.  Back in the 19th century it had been the centre of the uprising against the French lead by Emir Abdelkader. The town dominated a territory rich in cultural as well as agricultural produce, and its jealously guarded rural folk music tradition had given the world several renowned chioukh including Cheikh Belabbas Relizani and Cheikh Mohamed Relizani.   Relizane was also the home of several well-known female singers, including one of dominant voices of the 1930s, Cheikha Zohra Reliziana, whose biggest hit was 'Moula Bagdad'.
At around this time Rimitti met the venerable gharbi flute player Cheikh Mohammed Ould Ennems and set up a ménage with him.  Ennems was famed throughout the region and the protection he gave the young Rimitti was invaluable.  Together they started a family, and Ennems opened the door for Rimitti to many established musical figures, eventually clinching a session for her at a radio station in Algiers.   With this unfamiliar stability in her life, Rimitti began to compose her own songs.  It was a time of terrible hardship in Algeria.  The Second World War was raging in Europe and North Africa, and the Allied invasions of 1943 brought violence, danger and famine in their wake.  Oran and its surrounding regions were also ravaged by a plague of typhus, immortalised by Albert Camus in his existentialist masterpiece 'La Peste'.  Meanwhile the entrenched apartheid of colonial Algeria heaped misfortune on the native underclass.  Rimitti began to sing about these terrifying realities, not in a polemic or analytical way, but rather like a mirror coloured with cautionary tales, idioms, double entendres, popular epithets and the rich patois of the region, reflecting the woes, aspirations, trials and tribulations of the ordinary man and woman.  And the ordinary man and woman began to love her for it.
Rimitti would travel the region with her retinue of two flute players (Habib and El Manouar were her favourites), percussionist, dancer and berrah, a kind of MC whose job it was to keep the dedications coming and receive the tips in return.  Apart from private weddings and feasts, the public venues she played at were often bars, cafés and cantinas in the red light districts and entertainment quarters of towns like Sidi bel Abbès, Relizane, Mostaganem, Hammam Bouhadjar, Ain Temouchent and Oran.  The main square in the Medina Jdida, or Arab quarter of Oran, which was called the Tahtaha, was a favourite place for chioukh and cheikhates to appear.  Rimitti would often perform completely veiled, especially in front of mixed or male only audiences.  It all helped to heighten the sense of mystery and forbidden allure.  In fact, anonymity was a crucial aspect of the cheikhate phenomenon, and remains so until this day.  They ditched their real names in favour of nicknames which might describe their place of origin, or a salient characteristic.  Later, when their music was released on 45rpm singles or cassettes, a stock photo library shot of an Alpine scene, or the Tour Eiffel or some voluptuous blonde model would be use for the front cover, rather than a picture of the singer herself.  Although extremely popular, no one with the slightest concern for the colour of his own reputation would actually admit to listening to recordings of the cheikhas.  It was a private affair, but none the less potent or widespread for all that.
The story of how Rimitti earned her own stage name is a revealing one, that has been told many many times.   Near Relizane, just by a river called Oued Rhiou, there was a shrine dedicated to Sidi Abed, the patron saint of the region.  Every year, as happened all over Algeria, a festival or wa'ada, was held near the shrine.  Hundreds of white canvas tents were erected and all manner of musical attractions, both extremely famous and less well known were brought in to animate this temporary 'musical' city.  There would also be feasting, drinking and fantazias.  One year, Saâdia was walking through the festival with her retinue, accompanied by Cheikh Hamada and Cheikh Bouras, and was caught in a torrential downpour.  She took shelter in a canteen run by a local French company.  There she was recognised and complimented.  Someone suggested that she give thanks to her assembled fans by buying them a round of drinks.  The problem was that the bar was run by a French woman and Rimitti has never spoken more than a few words of French.  So she asked for a panaché (shandy), and then kept saying "Remettez panaché madame, remettez, remettez!", ("give me another shandy, madame, and another, and another…") eventually actually putting the words to music and singing it for the benefit of her delighted audience.  When passed through the filter of a thick North African accent, 'e's tend to mutate into 'i's, and so the assembled crowd started to cry out, "It's Rimitti, it's the signer Rimitti!"   "There," she still says, "I became 'Rimitti' thanks to alcohol.  It's a fine name!"
It was also at one of these wa'adat that Rimitti was spotted by a talent scout for the Pathé Marconi Company and in 1952 she released her first 78 for them, featuring the classic 'Errai Errai', followed by 'Trig Tmouchent' and 'Gasmou Tiaret'.   Two years later she released 'Charrag Gatta', a barely veiled invitation to virgins to do the deed.  "Tear, lacerate / Rimitti will mend / Let's caress under the covers / somersault over somersault / I'll give my love everything he wants / I'm smitten by the wholesale fruit seller / by the one with his turban and his turtledove" went the lyric.  It's not hard to imagine the effect of such a discourse on the polite Algerian society of the 1950s.  The song was a big hit and Rimitti's reputation was assured.
But 1954 was also the year in which the first salvos of the War of Independence were fired, and life in Algeria began to mutate irrevocably. Despite all the immense hardships of the pre-war years, despite the racism and apartheid rule of the European pied noirs, it's astonishing how much nostalgia still exists for those times when life, although not easier, was perhaps simpler than now and blessed with greater degrees of tolerance and diversity of culture, opinion and entertainment.  Rimitti supported the independence cause, as did other female signers like Cheikha Kheira Guendil, but she was also a popular act on colonial radio and TV stations, whose programmers valued the non-political nature of her songs and her immense popularity amongst ordinary native citizens, which was precisely the constituency that the French propaganda machine found hardest to reach.  Thanks to this popularity, Rimitti and the other Cheikhas were deeply distrusted by the cadres of the FLN, MTLD and other revolutionary groups.  As far as these po-faced strategists were concerned, this music was just a frivolous distraction, an opiate that drew the populace away from their true revolutionary Arab destiny.
Thus began Rimitti's long fall from official grace and favour.  During the '60s and '70s she maintained her grassroots popularity by performing at hundreds, even thousands of weddings, naming ceremonies and henna feasts.   "I was fed up with doing weddings before you were even born," she declares during our interview.  In the 1970s the North African community in France multiplied a hundred fold, and Rimitti became a favourite in the cafés of the Arab quarters like Barbès in Paris, Place du Pont in Lyons or Cours Belzunce in Marseille.  Her songs were a potent balm for the sorrows of lonely Algerian men, living in their worker's hostels and pining for the warmth and sun of the heir homeland.  A horrendous car crash on the road back to Oran from a concert in Algiers, in which three of her musicians died, had a deep effect on Rimitti.  She sings about it in the song 'Daouni', one of the best on her latest album 'N'ta Goudami'.  In 1976 she went on a pilgrimage to Mecca and soon afterwards gave up alcohol, cigarettes and other carnal indulgences.  Since then she has lead a modest and frugal life, split between a hotel room in the Barbès quarter of Paris and a  home in Oran, which she has been visiting regularly during the Ramadan period, when fasting and partying go hand in hand.
Rimitti's restitution in 1994 came in good time.  She has had another decade of life, and will hopefully have yet another one, in which to prove to the world that she is one of the greatest female voices in the Arab world and a cultural gem that Algerians from every level of society should protect, value and cherish.  Despite the global popularity of the electrified rai sound, Rimitti's roots formula of voice, flute and drum remains the most arresting, the most evocative and the most enticing clarion-call of the genre.  It takes you straight back to the dusty plains of Oranie, and to the lives of its struggling millions.   The fact that Rimitti and her team of producers and musicians have managed to modernise it so effectively, first on 'Nouar', a modern rai masterpiece produced by Algerian Mohammed Maghni and released in 2000, and now on 'N'ta Goudami', is something that all of us should be grateful for.  Remettez Rimitti.  Let's have another one, and another, and another!!!
Ivan Chrysler, (c) 2004
First published in fRoots Magazine, May 2004