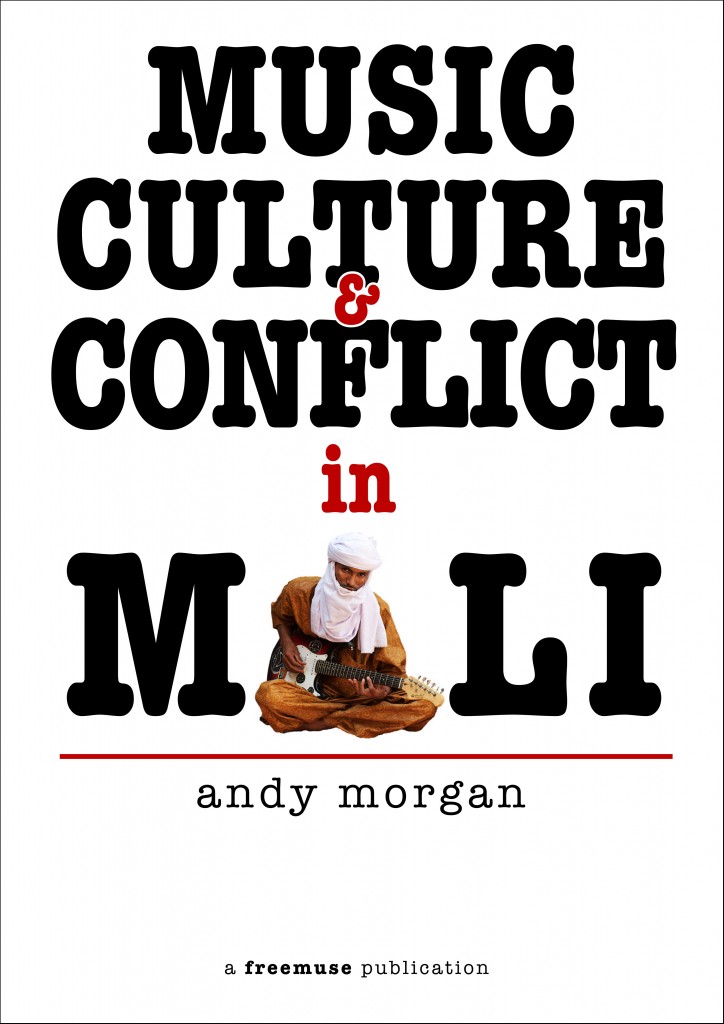 MUSIC
CULTURE
& CONFLICT
IN MALI
By Andy Morgan
A Freemuse Publication  220 Pages (approx) Out on May 21st 2013
AVAILABLE FROM:
FREEMUSE BOOKSTORE
iTUNES BOOKSTORE
AMAZON

"'Andy takes you on a clear and considered journey through the complexities of modern Mali. A must read for all those interested in the culture of West Africa." DAMON ALBARN.
"…one of the few positives to come out of the occupation of the northern two-thirds of Mali by armed jihadist groups in 2012 was the informed analysis of Andy Morgan. Now his writing on the crisis has grown into a book. His final chapter is required reading, a tour de force of both profound humanity and intellectual clarity." NIGEL WILLIAMSON, Songlines. 5/5 Stars.
"Andy Morgan brings his skills as a journalist combined with deep insight gained as manager of Tinariwen to sieve through the shifting sands of Saharan culture in this fine book."  IAN BIRRELL, Daily Mail & founder of Africa Express
"Does a wonderful job of not only detailing what happened during that awful period, but explaining why it did, and how it could easily happen again if things don't change." RICHARD MARCUS, Blogcritics.
"Essential reading for anyone who has been touched by Saharan music. It gives a clear and gripping picture of what it's like to live through the chaos of a 21st century conflict…A really valuable piece of work."  JUSTIN ADAMS, guitarist, UK
"Morgan's book is an excellent examination of the contradictory forces in the "war on culture" currently led by Islamists in Mali. Music, Culture and Conflict in Mali represents an essential resource for anyone, scholar or layperson, seeking to grasp the Malian crisis, contemporary West African culture, and the impact of extremist movements on cultural production."  ERIC J SCHMIDT, Ethnomusicology Review, USA.
"Andy Morgan has written a book about the Tuareg people that brings us up close with them in their moments of horror and disgust during the reign of the jihadists in northern Mali." BARBARA WORLEY, Senior lecturer of Anthropology at University of Massachussetts, Boston, USA
"A wonderful, sad and powerful read! I'm emotionally spent! This goes far further than an examination of the effect on musical life in Mali. It reaches into all aspects of Malian life, history and future. Most powerful though are the personal stories. This is an important record."  ANN MACKEIGAN, Executive Producer, CBC Music, Canada.
"The book is brilliant. Andy Morgan has solid experience, partly inside the music industry, not least as manager of Tinariwen. On top of that he's a writer who knows his stuff backwards. It's a treat to be introduced to the whole conflict in such a competent way and get first hand experience of what happens when the prophecy of The Doors is fulfilled."  TORBEN HOLLEUFER, Gaffa magazine, Denmark.
"Many thanks for this magnificent work. Even though it's in English, I've almost read it all, it's so well written and accessible."  OUSMANE DIARRA, author, Mali.
"An absolutely fantastic read and an invaluable primer on the volatile Malian situation of the last years. " CHRIS ECKMAN, Musician and Producer (Dirt Music, Tamikrest), Slovenia.
READ THESE EXTRACTS:
Freemuse, the international freedom of musical expression organisation, are pleased to announce the publication of their first book Music, Culture and Conflict in Mali, which is due to appear in a digital and on-demand paperback edition on May 21st 2013.
Music, Culture and Conflict in Mali is by the writer and journalist Andy Morgan, who used to manage the Touareg group Tinariwen and has been working with and writing about Malian musicians for many years. He is also a reputed commentator on the music, culture and politics of Mali and the Sahara.
Music, Culture and Conflict in Mali takes an in-depth look at the crisis that overtook Mali in January 2012 and lead to a ten-month occupation of the northern two-thirds of the country by armed jihadi groups. The book examines the roots of those tumultuous events and their effect on the music and culture of the country. There are chapters on music under occupation in the north, the music scene in Bamako, the destruction of mausoleums in the north, the fate of Mali's precious manuscripts, Mali's film and theatre industries and the response to the crisis from writers, poets, journalists, intellectuals and film-makers.
Music, Culture and Conflict in Mali will be available on May 21st as a digital edition from Amazon, iTunes Bookstore and Barnes & Noble (Price: £5.99 / €6.99 / $8.99) and in paperback from Amazon (Price: £12.99 / €14.99 / $19.99).
The income from sales of this book will support Freemuse in its work to help musicians who suffer persecution, discrimination or imprisonment around the world.
For more information, press enquiries and review copies, please contact Executive Director Marie Korpe at Freemuse: marie.korpe@freemuse.org