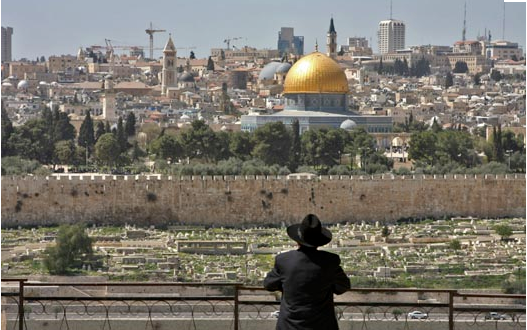 Imagine you're living in some hypothetical nightmarish future and England is divided between two warring tribes. You're a musician who belongs to the underdog tribe. You're invited to perform at a festival in London but the problem is getting there from your home in Oxford – in 'occupied' territory. The day of the show you get up at 5am and proceed to a huge checkpoint at the M40/M25 junction where soldiers keep you waiting for three hours before refusing you entry. So you divert along back roads to another checkpoint where the soldiers are less fussy. You manage to get through but there's another checkpoint just outside Heathrow to be avoided. So once again you leave the main road and take lanes, farmers' tracks, even footpaths, dodging patrols of border guards, before hitting the final checkpoint in Acton. If you get caught without the proper ID, either on the journey or in London itself, you're likely to be imprisoned, beaten or shot – maybe even all three. And London is supposed to be your capital city.
The future? Hypothetical? Not if you're a Palestinian living in the West Bank. Today, musicians from towns like Ramallah, Bethlehem or Jericho face precisely this kind of soul-destroying ordeal every time they play a concert in Jerusalem. And if they live further away in Nablus, Jenin, Hebron or Gaza… forget it. Their only live appearance is likely to be an evening with friends and family in their own front room, and during a curfew even that's out of the question. Moreover it's not only musicians who have to play cat and mouse with the Israeli border guards. Everybody does – sound engineers, stagehands, brochure distributors, music teachers, doctors, students, butchers, bakers, candlestick makers or simply concert-goers. Moving from A to B in modern-day Palestine is tortuous. It's a wonder that people promote music events or even go out at all. But they do.
In Jerusalem's Tomb of the Kings the crowd is standing, stabbing the air with fists and 'V' for Victory signs, singing the words of a radical Palestinian anthem by the late, great Egyptian protest singer Sheikh Imam: "PHALASTEEN! PHALASTEEN!" The director of the annual Jerusalem Festival, Rania Elias, is cheerleading the crowd, her fine dark features and Nefertiti jaw focusing in on the joyous sense of unity. Even the foreigners in the crowd – consuls, diplomats, heads of NGOs and journalists – have little trouble plugging into the power of the moment, even though the non-Arabic speakers find the song frustratingly meaningless. On stage, the group Awj from Ramallah are feasting on the collective euphoria. Their usual stage reserve, so typical of 'quality' Middle Eastern ensembles, is cracking at the seams. Palestinians are generally reserved people, and under the dark clouds of occupation, their reserve can sometimes be as stony as the sheer granite walls of this ancient catacomb. But the opening night of the 2003 Jerusalem Festival is like a resurrection, a heaven-sent tonic which, for just an hour or two, dulls despair and spreads joy among the 400-strong crowd.
When I interview Awj before their concert, they're good-humoured, despite their individual journeys from Ramallah to Jerusalem. Why is it important to play in Jerusalem? "Simple, because it's our capital city." Did any of you have problems getting here? "Yes, all of us. We had to get through four checkpoints. It's dangerous and very risky. The journey should take 45 minutes but it can take four hours, maybe even a whole day. But for us it's a dream to perform in Jerusalem. Even if we have to get through 1,000 checkpoints, even if they kill us, we will still come and say to the whole world, 'this is my capital and I will perform here.' That's what we and all the music groups have to do."
Yabous Productions, the non-profit Palestinian organisation behind the Jerusalem festival, has been organizing cultural events in Jerusalem and the West Bank since 1995. After the second intifada started in 2001, they were one of the few cultural organisations in Palestine to survive the Israeli crackdown. Their small offices in Arabic East Jerusalem buzz with activity on the day before Awj's opening concert. Spirits are up because tickets are selling quicker than last year and the pre-launch excitement is palpable. The office team are all women; young, good-humoured, determined and staggeringly efficient. At their helm is the indefatigable Elias, who combines a disarmingly sweet nature with the toughness of galvanised steel. "Our major aim is to revive Palestinian cultural life in Jerusalem," she says. "We want to present different cultures to our Palestinian people who cannot leave and travel around." Sure enough, this year's festival line-up includes a mix of Palestinian stalwarts like Awj, the all-star Oriental Music Ensemble, Zimar, female diva Rim Banna, and a varied assortment of global attractions including French electro-jazzers Erik Truffaz and band, South African songstress Sibongile Khumalo and Black Umfolosi from Zimbabwe.
The problems Elias and her crew have to overcome to get these artists into Jerusalem and on stage are terrifying. The challenge starts with funding. "For most organizations and companies here the priorities are to distribute food and rebuild houses in places like Gaza, Nablus and Jenin," Elias explains. "Approaching them with something called 'culture' is like talking Chinese. They don't understand it." A large proportion of the funding comes from overseas. The revenue from ticket sales, at just under $10 per seat, and contributions from a few local businesses make up the rest of the budget.
Then there is the marketing. Getting posters and flyers through checkpoints is just one of the many minor skirmishes of Yabous' annual campaign. Persuading the hard-news-obsessed media, especially the all-important Arabic satellite news channels like Al-Jazeera and Abu-Dhabi TV, to devote airtime to culture is another struggle. "The coverage of most Arabic cable channels is of the intifada or Iraq," says Nazmi Al-Jubeh, a portly and genial Palestinian professor of history and secretary of Yabous' board of trustees. "Most of the world isn't used to seeing us as a country of music but rather one of explosions. This image has to be changed."
Then there are the visas and the Kafkaesque machinations of the Israeli Interior Ministry. Just hours before the opening of this year's festival, news arrives that Marwan Abado, a musician of Palestinian origin resident in Austria, has been forbidden entry by the security guards at Tel Aviv's airport. As an Austrian national and passport holder, Abado shouldn't even need a visa to enter Israel. But Yabous decided to go through the bureaucratic agony of applying to the Interior Ministry for an entry visa, a process involving hundreds of phone calls, hours of queuing and, in this case, intervention from the Austrian embassy in Tel Aviv. Despite a reception party consisting of Yabous representatives, the Austrian cultural attaché and Abado's wife and all his paperwork, the hapless musician was denied entry, detained for 24 hours and deported on the first plane. The same thing happened to Black Umfolosi a few days later.
"It makes me feel angry," says Suhail Khoury, one of Palestine's most prominent musicians and artistic director of the festival. "But it doesn't surprise me. It's a game they play. The Israelis try to look democratic but then they use these tools. What threat is a musician to the security of Israel? But this is Shin Beit, the secret service. They have this guy's name on a computer and they don't care what politicians or the Interior Ministry say. We sorted all the papers, visas, stamps, everything. But then Israel just says 'for security reasons'. If Christ came back they would say he couldn't enter into the country 'for security reasons'."
Every year Yabous navigate a veritable ocean of troubles. Even the decision whether to search people as they enter the Tomb of the Kings becomes crucial and visceral. "We took the decision not to search," Al-Jubeh tells me. "The risk is there but we are not going to imitate the occupation. We don't want people to feel like they are crossing another checkpoint in order to join a musical evening." In a world where the simplest brush with bureaucracy can be like some existential parody of hell, the basic acts of listening to music and having fun acquire an elemental potency. I ask Elias why culture is so important at a time when teenagers are throwing stones at tanks and blowing themselves up on buses. "Because it's part of our struggle," she answers in a clear, determined voice. "Our struggle is not just political or economic. It's a cultural struggle, too, to exist in Jerusalem, to be here as Palestinians; to give Palestinians something bright and enjoyable. There are no other places to go in Jerusalem, no cinemas, no venues, no cultural centres. We are human beings – in the end we want to enjoy our lives like any other person."
Al-Jubeh supports Elias with his own eloquence. "Last year on the fourth or fifth day of the festival, the Israeli Army attacked an area of Gaza and killed 17 people including women and children. I had to address the audience that night and I told them that, in my opinion, there is no conflict between pleasure, music, relaxation, relief and struggle."
On one issue Elias and Yabous take a hard line – the boycott of Israeli artists and musicians. "I'm not against any Israeli person; I respect them all," she stresses. "But I feel that now is not the right time to invite Israeli artists to the festival. Jerusalem is still under occupation. We have people in prison. They are demolishing houses and confiscating land. If you have a good relationship with the Israelis and you present a good image of cooperation, the media and public will interpret it as if everything is normal and OK." "Everything is not OK," blurts out Yair Dalal – one of the most open-minded peacenik Jewish musicians working in Israel today – when I recount Elias' opinions to him a few days later. "If I was in Yabous' shoes I would invite a radical, peace-making Israeli artist to participate in this festival. It would be even stronger. Because there are many artists with left-wing views in Israel. I would invite one of these people: come and see how tough it is. Play in our festival, then go back to Israel and talk about it."
Just as the Palestinians have been made pariahs in the land of their birth, Israeli artists and musicians have become pariahs in the eyes of the world, thanks to the policies of successive Israeli governments, which these artists have never voted for nor supported – quite the opposite. Sitting on a couch in the funky little cabaret-cum-studio which he's just opened in Jaffa's old port, Dalal can barely conceal his hurt and anger caused by the gathering international boycott of Israeli artists. He and his manager wife Yvonne still smart at the rejections they have received from festivals in France, Japan and Zanzibar. You can see his point. Here's an artist who has worked extensively with Bedouin nomads in the Negev desert and organised concerts and tours with various Palestinian and Arabic musicians throughout his long career. When I meet him he's just returned from a peace tour in Germany, involving musical collaborations with Palestinian musicians from Bethlehem. It's as if Billy Bragg were told that he couldn't play at a festival in Morocco thanks to the dubious policies of the British government on Iraq. You can imagine what Bragg's reaction would be. And that's precisely Dalal's reaction to the international boycott of Israeli artists. "I mean, when we're rejected or boycotted by some festival… does Sharon care about it?" he asks with his own mellow rhetorical flair. "Will he withdraw from Jenin because Yair Dalal is not performing in Zanzibar? Come on! Maybe he'll withdraw from Jenin because Yair Dalal is performing in Zanzibar, not the other way round."
The problems that Dalal and other Israeli musicians face at home are troubling, although not nearly as blunt and immediate as those that Yabous and the Palestinians have to grapple with. The Israeli economy is in ruins. People are either too fearful or too skint to go out and listen to music. Tel Aviv, a city which used to be the party capital of the Middle East is now little more than a ghost town. People can't afford CDs. The boycott is growing abroad. Despite these afflictions, Dalal and his ilk continue to celebrate the multiculturalism of Israel in their music. Admittedly, applied to Israel, the term 'multiculturalism' sounds somehow strange. And yet, if you put the monocultural Jewish faith to one side, Israel is definitely and chaotically multicultural, more so than any other nation. Dalal himself comes from a family of Iraqi Jews who emigrated in the 50s. He works to promote the Arabic Jewish music heritage and to affirm the Middle Eastern and North African roots of over half of Israel's population. He takes great pains to stress the wonderful and historic collaborations between Jewish and Arabic musicians which flowered in not too distant times and places like Iraq, Morocco, Algeria and Tunisia. "There's a beautiful poem by the Palestinian Mahmoud Darwish," he tells me. "It says something like, 'The time when the conflict will be almost resolved is the time when the Israeli Jew recognises the 'other' part in him: Arabic, Jewish, Christian, Roman, Greek, Ottoman. I am a person who belongs to all these traditions. Is my mother a whore? No, my mother is the earth of this country and my fathers are all those cultures.' This is very strong. This is where the richness of our culture and our art comes from."
At Kalandya checkpoint, north of Jerusalem, that mother earth has been transformed into a hot, dusty, polluted hell- hole. Forlorn lines of Palestinians trudge past the tooled-up Israeli soldiers in their mirror shades. The anger, frustration and hatred of the Palestinian people shimmers over the scene like a lowering haze. It's a place where music and joy are like faint gnawing memories, lost and irretrievable. As an outsider, once you've had your fill of suffering and its cheap voyeuristic thrills, you quickly become enveloped by the choking melancholy all around you. Only then does it dawn, that when life itself is little more than one long struggle, maybe there's nothing more radical than music nor more revolutionary than joy.
Many thanks to David Codling of the British Council in Jerusalem; Rania Elias, Juliet Tourma and all at Yabous Productions, and Yvonne and Yair Dalal for their help in the preparation of this article.
Andy Morgan.  (c) 2004
First published in Songlines – June 2004
For more information: