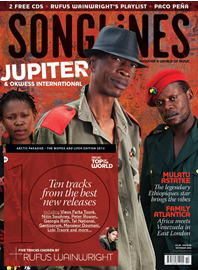 It was a small consolation, but one of the few positives to come out of the occupation of the northern two-thirds of Mali by armed jihadist groups in 2012 was the informed analysis of Andy Morgan. At the height of the crisis, Morgan seemed ubiquitous in the western media – on radio, television and in print. While talking heads from American foreign policy institutes revealed that there's nothing more ignorant than a wonk pontificating about places they've never been, Morgan, as the former manager of Tinariwen turned acclaimed writer, was able to offered a rare combination of inside knowledge and journalistic objectivity, informed by a deep and genuine love for Mali, its people and its music.
Now his writing on the crisis has grown into a book (originally intended as a pamphlet). Morgan details the background and context to the Salafist takeover of an area larger than the combined territories of France and the UK. He untangles the complex web of the different groups involved, and explains how the Tuareg liberationist movement MNLA was hijacked by the Islamist militia Ansar ud-Dine. His political analysis is detailed and comprehensive, tracing how the conflict had its roots in fifty years of Tuareg rebellions, as well as the legacy of events such as  the Algerian civil war of the 1990s and the overthrow of the Gaddafi regime in Libya.
But, as you would expect from a publication commissioned by Freemuse, the campaigning organisation dedicated to freedom of musical expression around the world, the main tune of the book is the impact of the crisis on Malian culture. Morgan's sharp analysis is supported by plenty of first-hand evidence, including accounts of how the music ban was brutally applied under shari'a law. There are also interviews with  Bassekou Kouyate,Vieux Farka Toure, Toumani Diabate, Rokia Traore and members of  the Tuareg bands Terakaft, Tartit and Tinariwen.
His final chapter is required reading, a tour de force of both profound humanity and intellectual clarity, as he describes how even after the jihadists were expelled in early 2013, fear and paranoia still stalk northern Mali. But his ultimate message is one of cautious hope, as he sees Malian cultural life emerging from the puritanical, doctrinaire war waged upon it "with a greater sense of defiance and honed purpose."
Nigel Williamson
(c) Nigel Williamson / Songlines 2013